SunBRKR
FASTER THAN LIGHT
We welcome a new generation of photochromic lenses.
Its specially developed photovoltaic sensor stimulates a flexible liquid crystal film (LCD) inside the lens, providing a level of protection from S2 to S4 and vice versa.
UV PROTECTION
The unique LCD production lens features extreme UV protection, designed to block the glare of bright lights and all types of ambient light.
ANTI-FOG TREATMENT
Our intelligent design allows air flow between the dual lens system and the wearer's face, preventing the lens from fogging, and anti-fog materials protect the eyes.
CHANGE ACCORDING TO LIGHT (LCD)
The lenses darken gently in sunlight and let more light through when the sun is obscured by clouds or trees in less than 0.1 seconds.
IMPACT RESISTANT
Dual lens technology can effectively prevent potential injuries during winter sports activities such as skiing and snowboarding.
MULTIPLE CHOICE OF COLOURS
Not only technology, but also fashion: the lenses are available in the following colours: PINK, BLUE or SMOKE to best match any occasion or outfit.
BATTERY-FREE
Ecological and environmentally friendly, solar-powered with no need for batteries or recharging.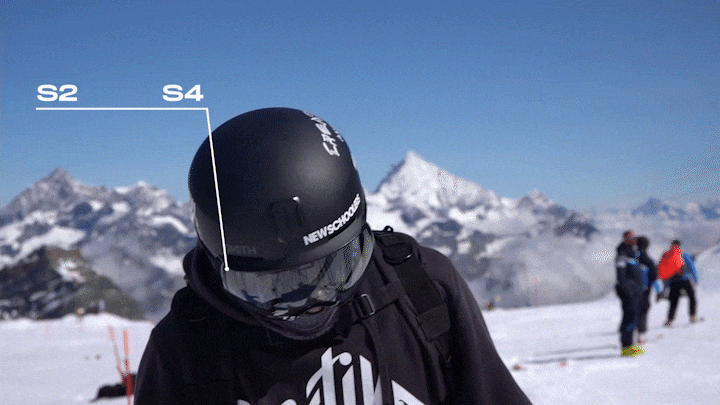 The SunBRKR project is the result of an agreement between, a leading Japanese company in the world of LCD blackout panels and bONE Technology srl. The former, thanks to their extensive production and various applications of the technology, have produced an LCD film to be inserted in small wearable devices, and bONE Technology has designed masks and glasses of the highest aesthetic and technical value, with a touch of Italian elegance.
The unique LCD lens, supplied by our partner, provides maximum UV protection by blocking glare from strong light, direct light and all types of ambient light. When the built-in light-sensitive sensor detects a different light intensity, this is converted into a corresponding electrical voltage that causes the liquid crystal to transition from bright to dark. The user's field of vision remains sharp and natural, without any disturbance.
Changes in brightness are very drastic and can occur over and over again per day due to atmospheric variability and surrounding environments. Therefore, SunBRKR technology not only solves a problem felt by skiers and snowboarders, but is also very useful in everyday life and in sports such as cycling, motorcycling and many others.
In addition, the double lens effectively prevents potential injuries during sporting activities: a transparent PC lens on the outside and a liquid crystal lens with unique bONE Tech. formula on the inside.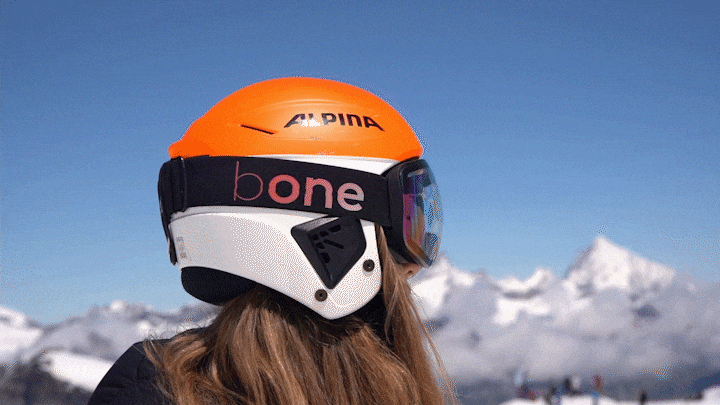 bONE Tech. solves visibility problems with a single lens, applying the technology on two different models to provide optimal vision and 100% protection against harmful radiation.
Filter classification according to EN 174:2001 standards
S0 → VLT 80%-100% with night light
S1 → VLT 43%-80% low light/cloudy
S2 → VLT 18%-43% in good weather
S3 → VLT 8%-18% with full sun
S4 → VLT 3%-8% with glacier light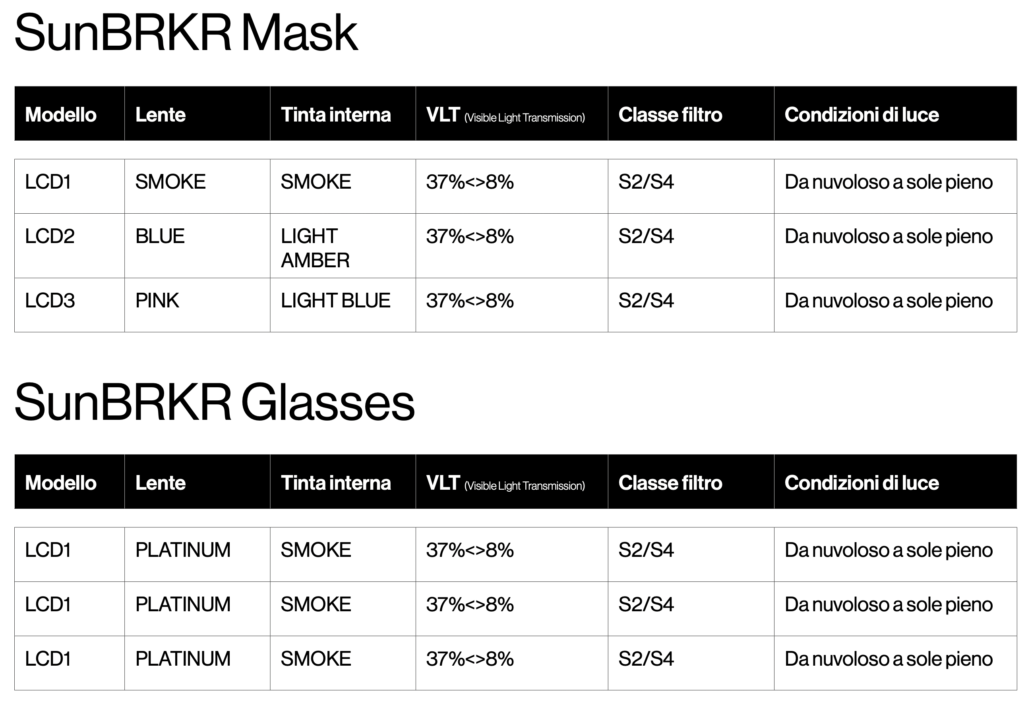 SunBRKR's production works remarkably well.
Take a look at the demos below and see what happens when we run our finger over the sensor, changing the perceived brightness!